WHAT'S INCLUDED WITH BELLO HAVEN TRAINING
Are you ready to become a six-figure stylist by adding extensions to your services? Let us teach you!
We offer in-person training, one-on-one training at our salon, and online training. We are looking for stylists ready to extend their education and learn a method that has enhanced the extension world. We teach our hand-tied method and our no-show method.
With our hand-sewn installation, we use beads and string to install our narrow edge wefts and invisible wefts. We attach beads evenly distributed through the natural hair to hold up the wefts. The bead is visible underneath the wefts. This method is great for clients who like to keep their hair extensions close to their scalp, and this is an easy method for mini move ups every four to six weeks. It is also a great method for your four-week maintenance client.
Our most popular and trending method is our no-show method. It also involves beads attached to the hair, but the difference is the beads are completely hidden! Want to know how? Let us teach you!
Both methods are amazing and can be used on any client.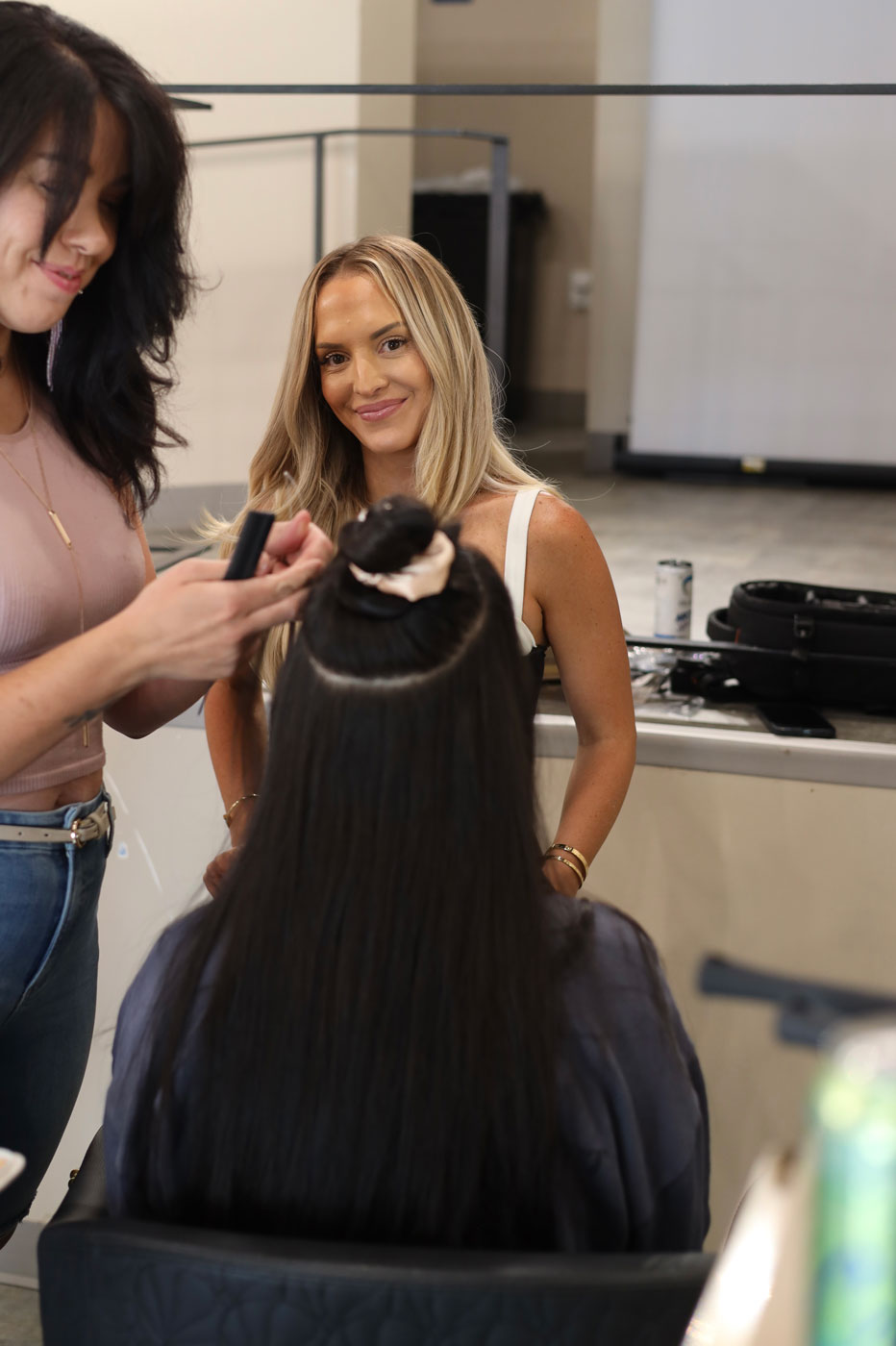 ALL ABOUT THE DETAILS
HANDS-ON TRAINING
We offer a full day of hands-on training that includes consultation, pricing, color matching, consent forms, product knowledge, method installation, hands-on practice, maintenance, and most of all, business training. We want you to leave our classes with all the knowledge and tools you need to build the business of your dreams. We are here to create a community to work together and inspire each other to grow. That starts with investing in YOU! We look forward to working with you and inspiring you every day to chase dreams you never knew you were capable of!
Are you interested in being a host salon or being involved in a class in your area? Don't see a class in your area? Email us! We can come to you!
CERTIFIED STYLISTS RECEIVE A PROFESSIONAL DISCOUNT ON ALL PRODUCTS.
Book an upcoming class today to get in on best deal around!